---
Blood is Thicker than Seawater
Having Cassima and Alexander have a child was something I was reluctant to do, since the official KQ games revolve soley around two generations: Graham and Valanice's and Rosella and Alexander's. I was hesitant to add a new generation to the royal family tree, but in a way, I suppose my version of KQ10 can be seen as the end of the first era of King's Quest that began and ended with Graham, and KQ11 can be seen as the beginning of a new one, since the plot revolves mostly around the newest addition to the family.
I don't think I originally intended this game to fall into the same pattern that the previous two games Alexander has starred in follow, but I ended up doing it just the same. As the story developed, I couldn't see a better way to pad the plot that didn't involve Alexander collecting ingredients for magic spells and acquiring a magic map. Not only that, but just like in his previous two appearances, Alexander spends a lot of time on a ship. History does seem to repeat itself.
***
Vark the aardvark-sorcerer was first mentioned in KQ6, and appeared in KQ9:IT4. Though the KQ Companion says that he is the sorcerer who owned the spell book and created the magic map, KQ6 seems to imply that the owner of the book and the owner of the map were not the same person. Ali the bookshop owner says that the spellbook belonged to a magician who "poofed himself into an aardvark", while the pawnshop owner says that the magic map belonged to a wealthy wizard who died some time ago. I didn't realize this for a while, and since I had already fallen into the Companion's trap, I decided to merge the magician and the wizard together despite the slight inconsistancies regarding their fates (perhaps there were varying accounts of what happened to him, though in this story he fled the islands after his accident), since that seemed to be the most convenient option.
***
Shappa's initial attitude towards Alexander may seem quite different than the way he acted towards Edgar in KQ9:IT4. This is mostly due to Shappa's curiosity about Edgar when Edgar first shows up and his secret dislike of the way Suhad behaves towards Edgar, whereas Shappa is somewhat familiar with Alexander and resents Alexander's being in command (since cats are "self-governed" animals and dislike being ordered about).
***
Glaucus is a character in Greek mythology, and the story about him that Tavish relates to Alexander is pretty much the same as the story we have about him in our world.
***
I had much too much fun writing the scenes with One-Eye and Three-Eyes. They are both characters from the Brothers Grimm story "One-Eye, Two-Eyes, and Three-Eyes," which, like "The Twelve Months" and "Jorinda and Joringel," I first heard on "Let's Pretend." It is similar to the original Grimm version of "Cinderella," but at the same time, it is quite different. Two-Eyes is not a stepchild, nor is she the youngest of the three sisters (Three-Eyes is), and unlike "Cinderella," Two-Eyes' sisters are forgiven for their evil deeds when they show up at her home, begging for food (whereas Cinderella's stepsisters have their eyes pecked out by Cinderella's faithful little birds at her wedding).
I didn't intend for One-Eye and Three-Eyes to become infatuated with Alexander and start fighting over him, but once I started writing their scenes, they suddenly developed lives of their own, and there was nothing I could do but spin out their dialogue as quickly as I could. They certainly were a lot more fun to be around than most of the prudent, beautiful maidens I've written about.
***
The identity of Emmett's father is never fully revealed. I originally intended him to be a character that appeared in one of the previous KQ games, but I never decided whether I really wanted to do that or not, so I made Emmett's descriptions of him just ambiguous enough for him to be either the previously occurring character or a completely original one. (Highlight the following lines if you want to know who the previously occurring character is.) The old hermit Graham meets on the beach in KQ5. Think about it: despite being a simple hermit, he has a surprising knowledge of the curative powers of plants from the sea, is able to communicate with mermaids, and even knows about the wizard Mordack.
***
The adventure Alexander has with the soldier, the witch and the large-eyed dogs is all stolen from the Hans Christian Andersen story "The Tinder-Box." After rereading the story, I realized that the soldier in it is a unbelievably overconfident, rather undeserving sort, and I thought it would be amusing to give him a humorously ironic flaw in BITTS. Mwahah, I'm evil.
I didn't realize this before, but in the original, uncensored Andersen story, the prince chops off the witch's head when she doesn't tell him what she intends to do with the tinderbox (in the two adaptations I first read, he merely threatens her with the sword and she runs off). That sounds like something that you would get fewer points for in the game.
***
I was originally going to have the last spell ingredient be an oyster until I discovered that oysters don't grow in deep water, so I quickly replaced it with the fictional "silverheart".
***
I was contemplating making the pirate captain odd-eyed (having each of his eyes be a different color), but between One-Eye, Three-Eyes, and the three huge-eyed dogs, I figured that I had enough oddly-eyed characters in this story already. In the search for a unique human facial trait that the selkie could warn Alex about, I finally settled on a harelip.
I was also contemplating naming the captain Morris, but the confrontation with Shappa made for a scene that seemed like a mixed-up in-joke (since popular advertizing personality Morris the cat, like Shappa, is orange), so I hunted around for another strong-sounding male name beginning with "M", and found Merrill to be a good-sounding one...and ironically, it's a masculinized form of a woman's name meaning "sea light."
***
Somebody remarked that KQ11 contained several elements reminiscent of those of the Quest for Glory series, particularly the name of Alexander's ship (dryads appear in QfG), Shappa's race (a race of humanoid cats appears in the QfG series), and a former adventurer simply called "The Adventurer" (very similar to a character in QfG5). However, as of writing this story, I hadn't even completed the first QfG game, so these are all just coincidences.
---
A few lines of text that I either altered or removed from the story and decided not to delete for one reason or another:
Chapter 8:
He would have to be careful while talking to that half-breed. The slightest slip of the tongue wouldn't fail to rub him the wrong way.
Chapter 8/9:
Since there were no cabins for dining in and no schedule for meals, Alexander helped himself to some food from the storeroom when the time for the evening meal seemed to be approaching. He didn't see Shappa He was tempted to find and talk to Shappa again, but he was wary about trying the same method again. He also recalled what Suhad had said about Shappa's kind being innately curious, and Alexander wondered if that trait would soon win out over aloof indifference
Chapter 19:
"I'm not certain," Emmett replied, "But I should have a chart that – Ah, yes: there it is, the second one from the left."
He pointed to one of the charts that lined the wall above his makeshift table. Alexander walked over to the chart and found that it was a guide to the tides around Glaucus. After examining the chart, Alexander discovered that during this particular time of the year, the soonest the tides would ebb was in the early morning. It looked as if there was nothing to do but wait until the following day before seeking out that cave.
Chapter 23:
"After the spell I cast on them wore off, they were probably pretty furious to discover that their treasure was gone. They probably blame me for its disappearance too."
Chapter 26:
Something suddenly occurred to Alexander.
"One-Eye," he said before the woman turned away, "You don't serve oysters here by any chance, do you?"
One-Eye sneered.
"Oysters?" she repeated. "Who in the world would eat those nasty, slimy things? I'm sorry, but the only sea creatures we serve here are fish. If you want an oyster, you'll probably have to go diving for one"
Chapter 30:
"Revenge can only bring satisfaction for so long," Alexander said. "Men can spend so long preparing for it, and when they've finally avenged themselves, they are left completely empty, with nothing left to prepare for. Taking revenge on this crew would be pointless.
Chapter 35: How frightened Cassima must be, thinking that that creature is her own son…Why did I have to lie to her, Alexander asked himself angrily. Why couldn't I have told her the truth?
Chapter 40: "Unfortunately, they said that if I mentioned the Sea Fairies to you…that they would never return Devin, even after you admitted your guilt." Alexander bowed his head, unable to face Cassima any longer. "I'm sorry, Cassima," he whispered. "I'm sorry."
---
Sketches of various characters and locations from the story:
A large page full of stuff for BITTS, as well as a couple of things from ABD (complete with notes).
***
An older piece of concept art of Alexander (also on DeviantART).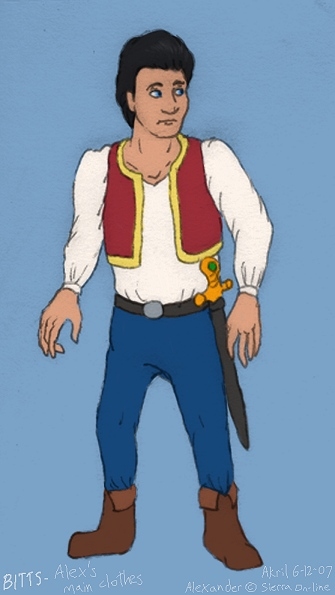 ***
An older sketch of Alexander meeting Vark (also on DeviantART).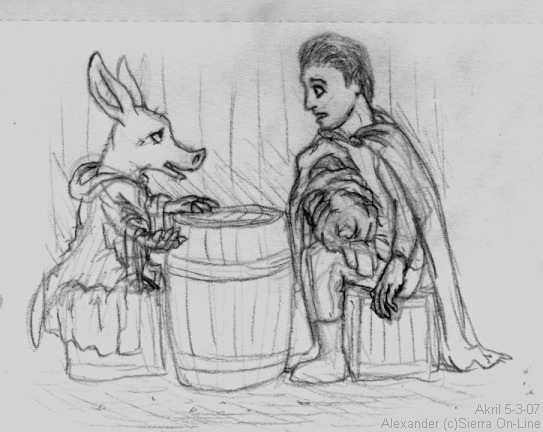 ***
My first sketch of Glaucus, which I did in the Galapagos Islands. Obviously, there are a lot of things wrong with the sketch of Glaucus from behind, especially with the waterline. The small, darker sketches are ones I did later for references on where the various buildings were located. If you look carefully, you can see a faint image of this sketch in this sketch of Alexander and Rosella, since it was on the next page of my journal and I forgot to put another sheet of paper between the two pages when I scanned the sketch.
***
Sketches of Emmett the recluse, as well as a few notes about Glaucus. As you can see, I went through a lot of hairstyles for Emmett before I found one that fit him.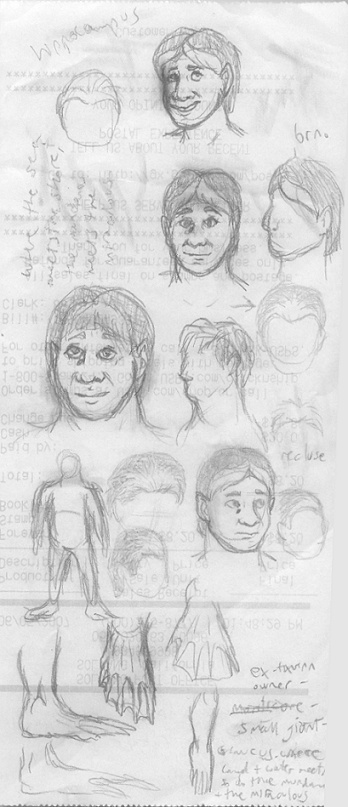 ***
A rough sketch of the Sea Fairies' city.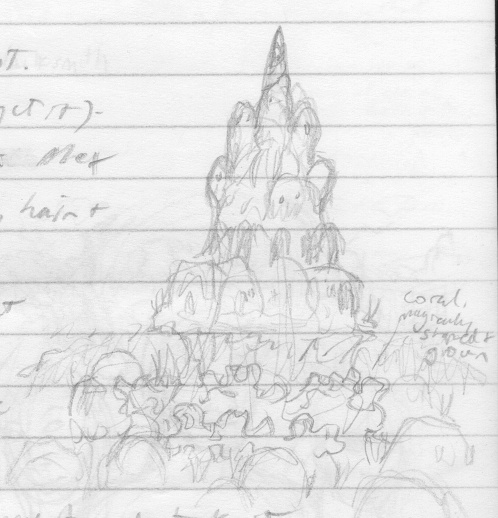 ***
The Sea Fairies' throne room.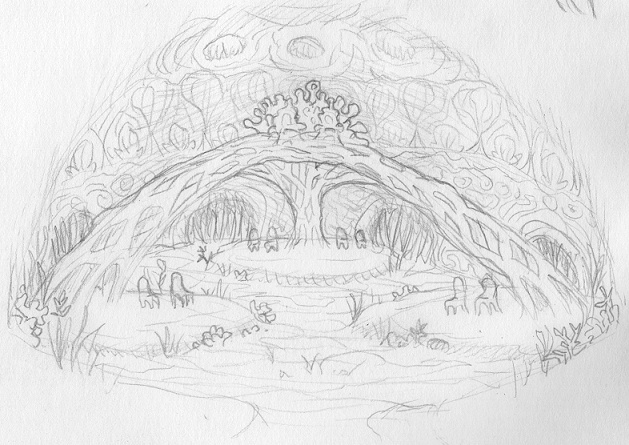 ***
A tiny doodle of a silverheart shell. I usually find things easier to write about if I can see what they look like.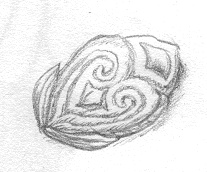 ***
Sketches of various Sea Fairies. I didn't spend too much time sketching them, since they were so complex and it would be so easy to make them look too ridiculous on paper.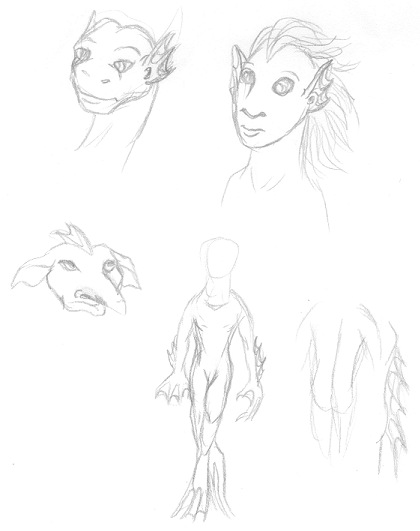 ***
Some sketches of Tavish.
***
Several members of the cast of KQ11:BITTS (on DeviantART).

Back to top
---
Miscellaneous
Both Age Before Duty and Blood is Thicker than Seawater were written with many of the elements of the KQ games in mind. I didn't want to write a couple of generic fantasy adventures, but two stories that resembled adventure game novelizations. All I had to begin with for each story was a rough plot with a beginning, and ending, a few important scenes in between, and not much else.

Over time, I began adding various "KQ-esque" items to the storyline: familiar fairy tale and mythological characters and scenarios, puzzles, inventory items, unique locations and a few sketches to remind myself what certain scenes and characters were supposed to look like. If either of these stories were made into games (not bloody likely), there wouldn't be much need to modify either of them, except to add a bit more dialogue or pad the plot with an extra puzzle or ten. I even pictured the prologue of each story as the intro movie, with the actual game not starting until Chapter 1.

***

Writing two fanfics at once may seem daunting at first, but I found that there are advantages. When I got tired of writing ABD, I would switch over to BITTS for a while, and by the time I got tired of it, I would be ready to tackle ABD again. Since both stories are written in the same universe, I had no problem with adjusting whenever I switched stories, and the only difficulty I had was incorporating events from the first sequel into the second sequel when I hadn't written about those events yet (which almost never happened).

***

Writing stories starring Alexander and Graham was also a daunting prospect. Up until now, the only major KQ fanfics I've written (including KQ9:IT4) have starred Cassima and Edgar, while most of my shorter stories have starred Valanice, her parents, King Edward, and Genesta. Writing stories starring these characters was fairly easy, since their histories aren't set in stone, and for the most part, their personalities can be fairly flexible. I had the most fun writing stories with Edgar and Cassima because they had such great potential, and having Alexander and Rosella's significant others meet seemed like the perfect sequel idea to me.

However, Graham has starred in three official games (not to mention one official remake and two unnofficial ones, going on three), while Alexander has starred in two (the last one considered one of the best in the series). Fans know these two characters pretty well, so I knew it was going to be pretty challenging to write stories starring them, because it would be terribly easy to slip up and make them say or do something that they would never do in the official games (not if the player wanted to get the maximum number of points). It was a constant challenge to keep these two fellows in character, so much so that I had difficulty focusing on the other important elements of the story at times.

***

I didn't decide on what order ABD and BITTS were going to be in until I came up with the idea of Death telling Alexander about his son, which placed ABD firmly in front of BITTS. Oddly, in both of the documents I created describing the two stories, BITTS came before ABD.

***

As some of you might already know, I first mentioned the possibility of two sequels involving Edgar and Cassima's futures on the bottom of the KQ9:IT4 Extras page, mentioning that those are two loose ends that I never bothered to tie up. I didn't plan to do anything with those ends; after all, I'd just finished putting together a huge project, and I was feeling pretty burnt out. Little did I know that barely a year after I wrote that that I'd be madly churning out stories and art based on those blurbs. Here's a page chronicling rough ideas for the stories back when I still had no intention of actually writing them. My, how things changed since then...

Back to top
---
KQ9:IT4 | KQ10:ABD | KQ11:BITTS | Back to Literature | Home
---
© Akril 2007-2008
King's Quest and Sierra On-Line are trademarks of Vivendi Universal Games